Traditionally, conservatories always had a glass roof. Whilst this provides lots of light and a feeling of spaciousness, the summer heat, winter cold, and glare from the sun can become a constant challenge for a homeowner when it comes to keeping the temperature just right all year round.
Guardian Warm Roofs have become a popular choice and a fantastic addition to any conservatory as they help to manage some of the drawbacks of a glass roof.  In this article, we'll look at the reasons why a warm roof could provide added insulation and style to your home, making them a great investment.
What is a Guardian Warm Roof?
Whilst you might be familiar with what a conservatory warm roof is, Guardian's solution to this product is very versatile.
Guardian began their warm roof journey in 1998 when it was considered impossible to make a tiled conservatory roof, but they took this challenge in their stride to create something never seen before.
It's taken over 20 years to develop and ultimately perfect their innovative technology, but it has been so worth the wait. Guardian have made their warm roofs a solid investment for any conservatory, and here are just a few reasons why they're totally worth considering.
Key features
Incredibly efficient in energy savings
Warm roofs do a great job of insulating your conservatory, helping you to prepare your space for the many cold winters ahead. Every roof comes equipped with 3 layers of insulation, each with heat retention and dissipation in mind for the winter and summer respectively.
You'll find that your space is far more livable all year round thanks to their very efficient U-Value rating of 0.15 W/M²K, meaning that you won't be spending nearly as much on heating up your conservatory.
Quick and easy to install
The team at Infil take just 3-4 days to install a new Guardian Warm Roof. Being a bespoke product, each roof is custom designed to match your conservatory perfectly.
We're excited to offer a quick timeframe for installation, as it means you'll be enjoying a far cosier space a lot sooner.
10-year guarantee
Infil is a certified installer of Guardian Warm Roofs, which means you'll be in a safe pair of hands. Our teams are experienced in all aspects of construction, renovation and upgrades for conservatories of all sizes, giving you peace of mind in your installation.
Your warm roof will not only come with a 10-year guarantee, but a certificate of authenticity to prove the installation has been done to professional standards which is an important requirement when selling a home.
Temperature regulation
Thanks to its many layers of insulation, and solid build, your Guardian Warm Roof will be far superior and help you manage the temperature inside your conservatory far more easily. Instead of the stereotypical conservatory experience, a warm roof will revolutionise your conservatory all year round (cool in summer and warm in winter).
Fits any conservatory & looks fantastic
A conservatory as unique as yours will need a roof to match, and a Guardian Warm Roof is perfect for this.
We can customise your brand-new roof to suit your home exactly. Guardian offers a wide range of roof materials to choose from so you are sure find the right aesthetic and feel for your home. There are modern material choices too such as slate and steel tiles in some very attractive colours.
We can advise and assist you on what aesthetic choices you'd like when you get a free, no-obligation quote with us.
Why you should get a warm roof
If what we've listed above isn't enough to convince you, then perhaps these examples of Guardian Warm Roofs will.
The roofs above showcase the different colour tiles, including 'Antique Red' (left), 'Burnt Umber' (centre), and 'Charcoal' (right).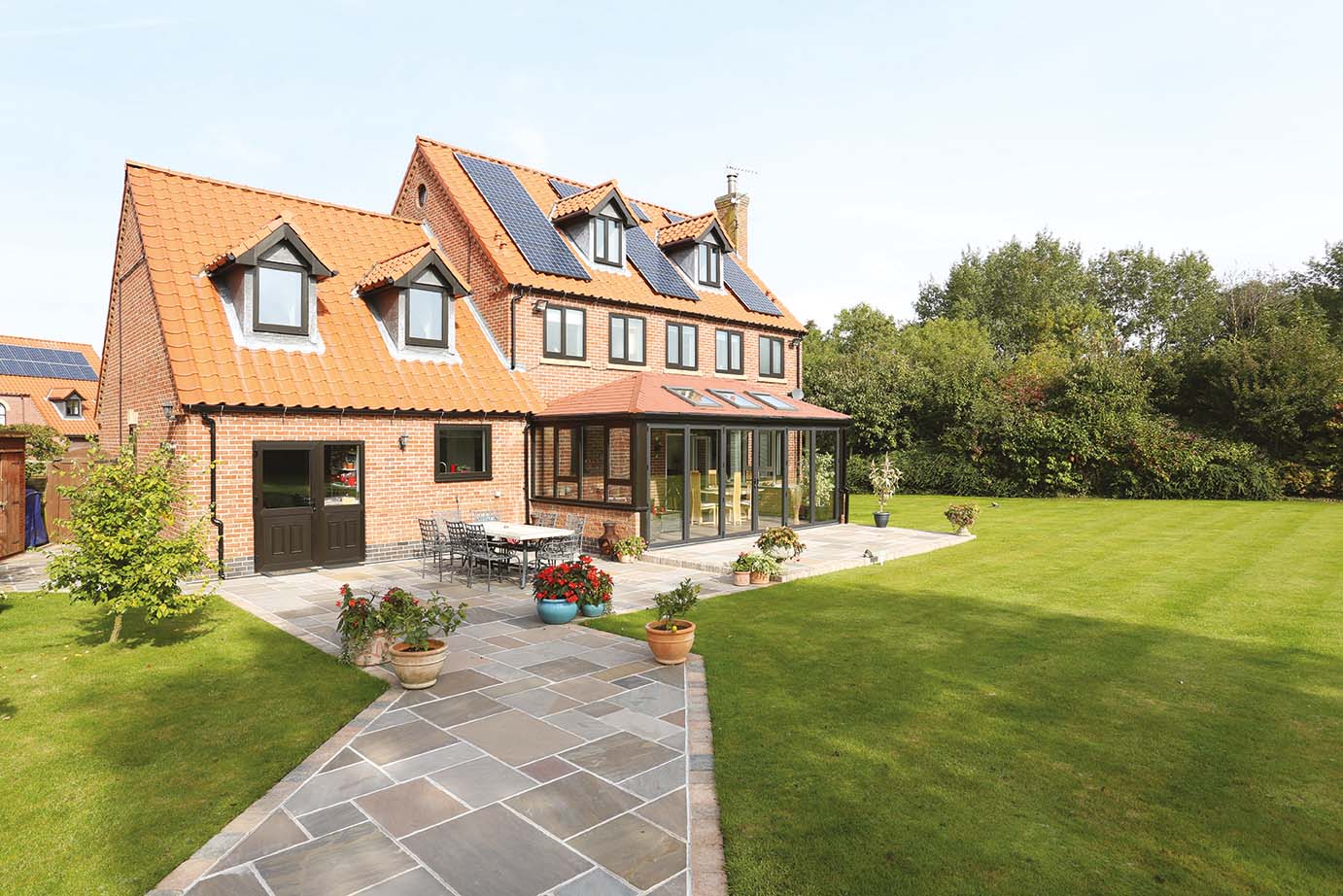 The right warm roof can really add some extra flavour to your beautiful home, such as in the example above.
Get your warm roof installed with Infil
We're proud to be installers of Guardian's top-notch product. For over 40 years we have been installing, maintaining and renovating conservatories and this product is definitely one that we rate highly as an excellent choice. We can assure you that you'll be investing in a fantastic product that will really enhance your home.
Give us a call on 01787 477231 today to see how we can refurbish your conservatory today.