Casement windows are probably the most common type of window. As the name indicates, it is a window that is hung either from the side or top of the frame that 'encases' the window panes whilst having two parts of the fitting lock together. They're different to Sash windows and are the go-to for many home owners. Developments in design and materials technology has resulted in far greater choice in style, colour, finish and performance. Perhaps you're thinking of having casement windows installed but you're not too sure where to begin? If this sounds like you then take a look at the different types of casement windows we offer and which might suit your home best.
Traditional Casement windows
When uPVC was in its infancy way back in the 80's, the white plastic was all the rage in the world of home improvements and it is still a popular choice. Although, there are now a few more aesthetics to choose from, such as a traditional wood look and colour choices such as grey and black, or even light green.
A huge selling point for casements are their multitude of opening options. Our fittings can be hung in many ways, depending on what you need, such as side opening and even top opening for easy ventilation. Don't forget to discuss these options with our installers before you order.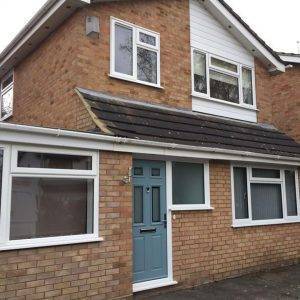 Flush Casement windows
Maybe classic casement windows just aren't right for your home, and the streamlined look you need for your trendy house is a non-negotiable?  Introducing the Rehau Flush Fit Casement windows!
With all the standard features of a casement window, Rehau fittings are manufactured in line with the exterior frame, and  when closed provide a 'flush' fit. This gives a sleek, modern look to a home and serious curb appeal. Much like all of our other casement windows, these too come in a variety of styles and design options. These windows can also have fittings designed for heritage properties to keep to conservation guidelines.  If you'd like to explore this range, we have samples available at our showroom for you to compare and help you choose the best options.

Main benefits of casements
Energy Efficiency
With rising energy costs, you'll notice a real difference with brand new casement fittings thanks to their fantastic insulation. At Infil, we install independently verified BRFC A-rated windows which could save as much as £160 per year on your energy bills.
A Plethora of Design Choices
As mentioned previously, all of our casement windows come in many styles that are sure to suit any home. Our fitters can even combine your new windows with fixed panes to create a symmetrical feel or even a mix of styles to make your house stand out from the rest.
Frosted Glass Options
We've got you covered for your bathroom windows too, as our fittings come with a frosted glass option for some added privacy, meaning you won't need to compromise on light.
Security as Standard
All of our fittings come with British Standards approved multipoint locks, meaning that your home is fully protected from intruders, and even the handles come in a wide range of aesthetics to choose from.
If you're interested in installing your home with the latest casement windows, give us a call on 01787 477231 for a free quote today.