Conservatories Gosfield 
Modern & Efficient Conservatories
Enhance your Gosfield home with a new conservatory. This extra space is ideal for entertainment and relaxation, creating a bright and airy extension to any home.
You can use conservatories for a range of purposes, including playrooms, dining areas, sun lounges and much more. Additionally, they could also help to increase the value of your living space.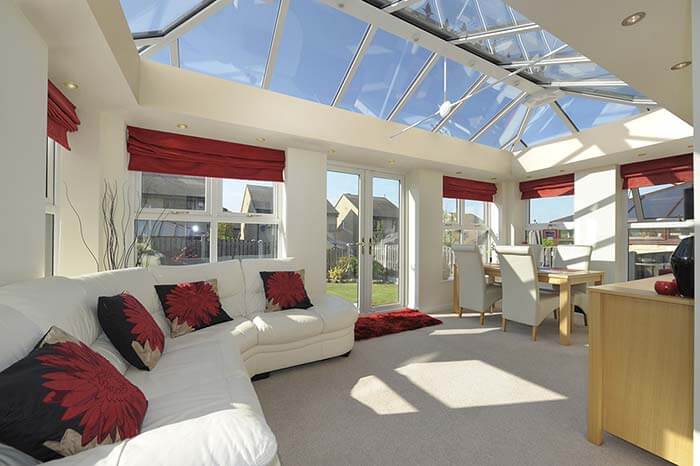 Benefits Of A Modern Conservatory
Our modern range of conservatories makes use of the latest innovations in construction materials. UV, heat and glare resistant, our range of roof panels and double glazed windows are designed to insulate the conservatory, controlling the temperature and ensuring a pleasant atmosphere all year round.
Designed to fit your lifestyle
The conservatories we offer at Infil Double Glazing can enhance a range of Gosfield homes. Available in various configurations, you'll be able to select the layout, shape, colours, window effects and roof designs.
At Infil Double Glazing, we make it easy for our Gosfield customers to create their ideal home extension. With years of experience available, our team will be happy to assist you during the creation process from start to finish of your project.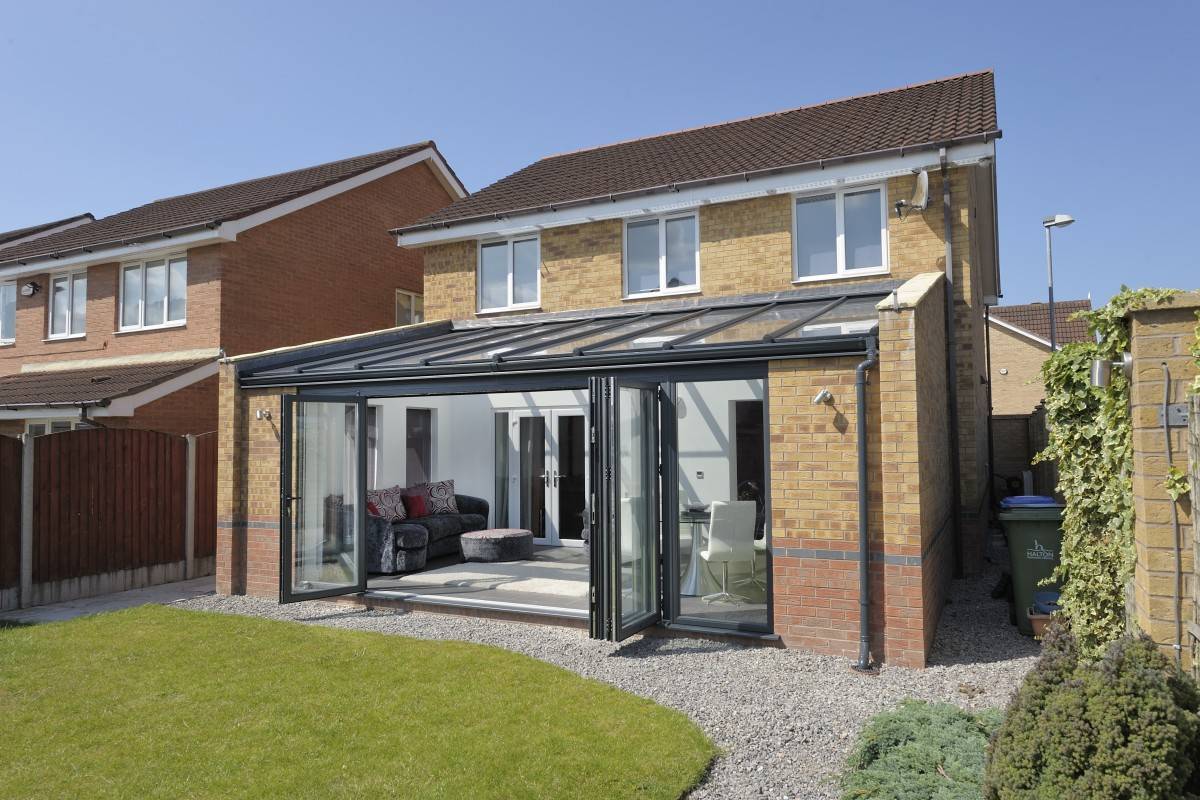 Style
At Gosfield, we offer a range of conservatory styles to suit your taste, from the classic bay fronted Victorian to the sleek and modern Edwardian. And if you don't find what you're looking for, we also offer custom designs to create the perfect conservatory that matches your unique style.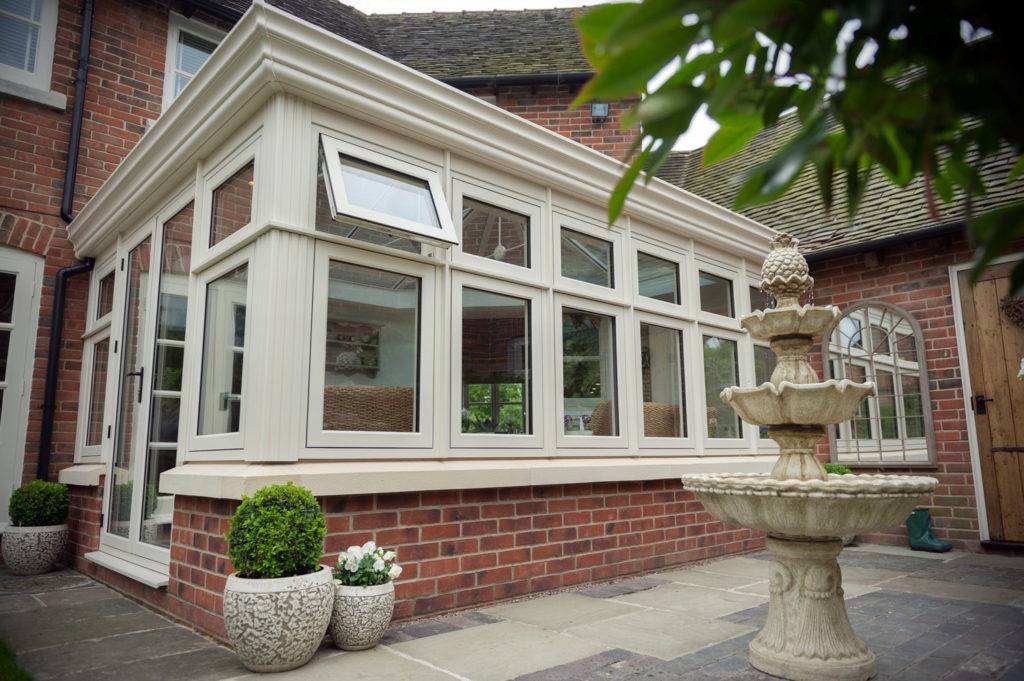 Conservatory windows
When it comes to windows for your conservatory, the choice is yours. Whether you prefer the elegance of sash windows or the flexibility of tilt and turn, we've got you covered.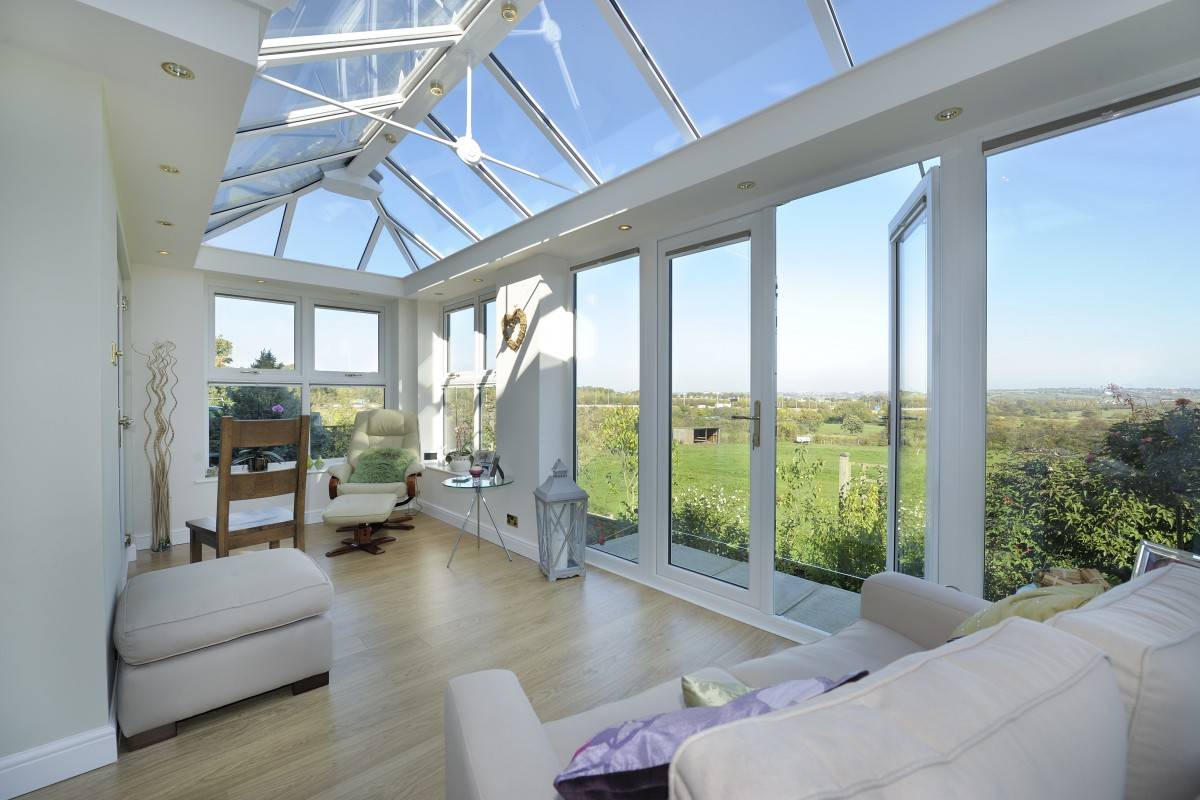 Conservatory doors
At Gosfield, we offer a variety of door options including bi-fold, patio, and French doors that are perfectly coordinated with your conservatory's frame and windows.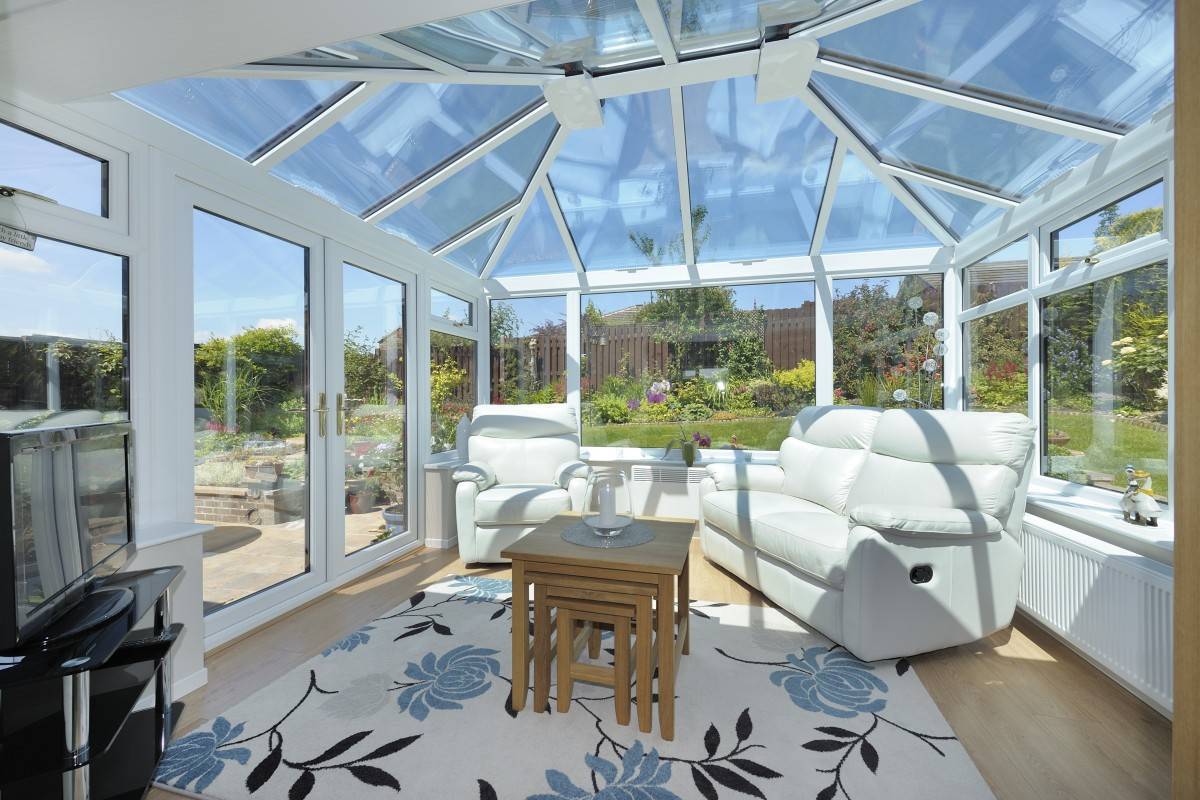 Conservatory roofs
Transform your conservatory with our durable and reliable glass and polycarbonate roofs. Our roofs are specially designed to resist UV rays, heat, and glare, and come with self-cleaning options and a 10-year guarantee for your peace of mind.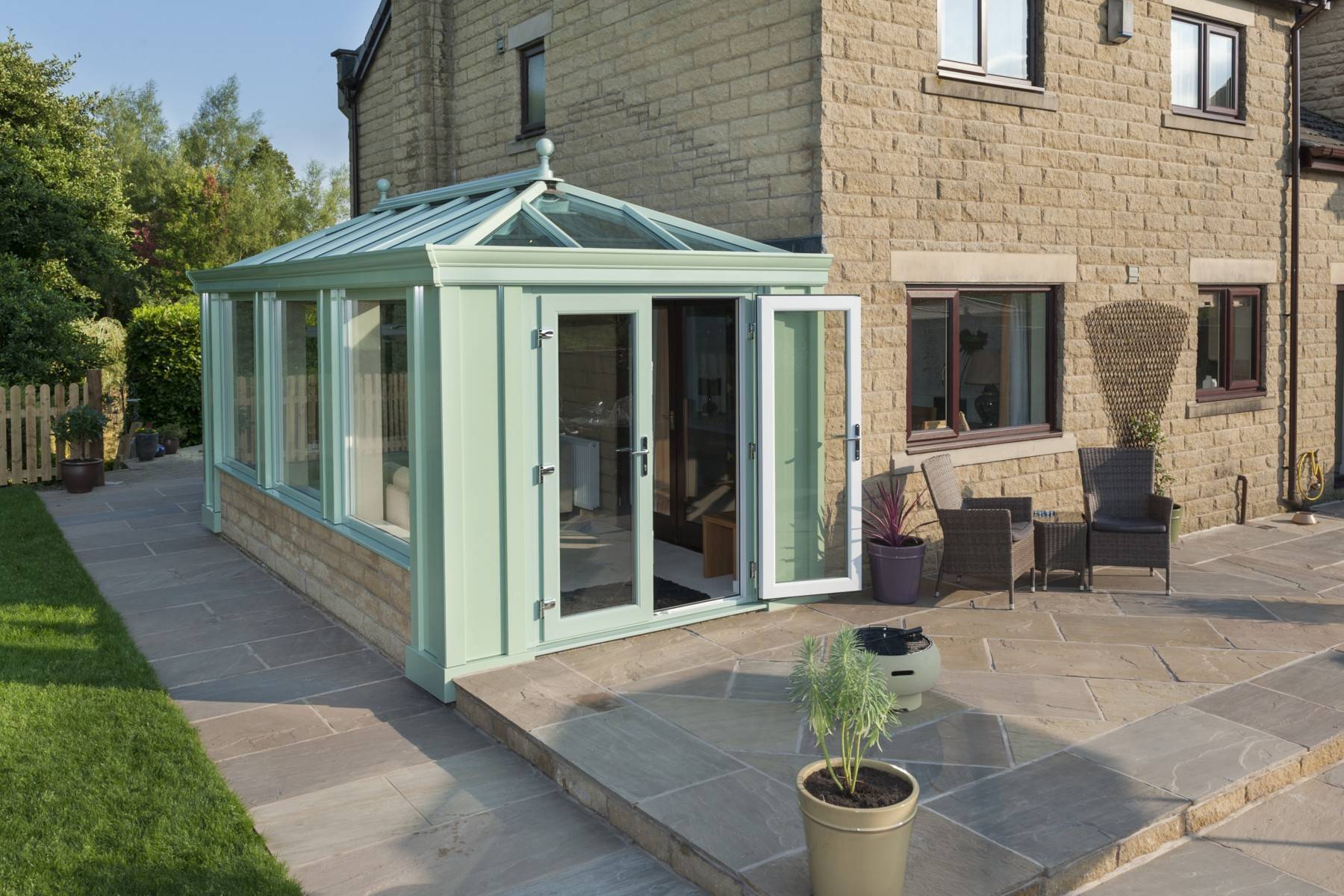 Finishing touches
Transform your conservatory with our durable and reliable glass and polycarbonate roofs. Our roofs are specially designed to resist UV rays, heat, and glare, and come with self-cleaning options and a 10-year guarantee for your peace of mind.
At Infil, we've been building conservatories for happy customers for over 40 years. Here's what sets us apart:
As independent installers, we work with a wide range of manufacturers, giving you a whole variety of options for different budgets.
We only use BBA certified and British Standard approved parts.
Our conservatory builders are employed by us and work for us. Due to their expertise, skill and experience, we consider them to be our greatest assets.
We provide free advice on planning permission and building control guidelines, making sure your conservatory is built with due care and attention to the rules.
You'll be guided through the whole process. From drawing up the plans and designs to assisting with making the most of the available space, our expert team could help you put the finishing touches to your Gosfield Conservatory.
With us, you'll receive a service that provides you with expert knowledge, superb installations and detailed final checks. We'll be happy to help answer any queries you have throughout the process.
We're with you every step of the way:
With Infil Double Glazing, you'll be offered a comprehensive service to help you build the perfect conservatory for your home. Our services include:
Design: We can visit you at home to discuss your ideas and come up with a bespoke design, including all the finishing touches.
Advice: We'll provide you with advice on planning permission and building regulations guidelines and help you to identify any issues you might need to consider.
Build: Our experienced team of employees will work with respect for your property, ensuring a high standard of workmanship from laying the foundations to fitting the windows and roof.
Finishing touches: Our team of skilled plasterers and electricians will ensure your conservatory is ready to decorate and enjoy.
Aftercare: We'll provide you with advice on how to care for your new conservatory, and our 10-year guarantee ensures we'll be there to fix any issues if they occur.
Consider our range of popular conservatory styles, and if none of them appeal to you, simply reach out to us for bespoke design services. We're happy to help you create the perfect conservatory to suit your preferences and needs.
We guarantee a fair price from the get-go, without any obligation or pressure to make a decision. Our quotes are free, so take all the time you need to consider your options and feel free to contact us with any questions you may have.
Give us a call…
For a free quote, or just to answer a few questions, we are here to help. Give us a call on 01787 477231 or email info@infil.co.uk.